Who is pumped about Part 2 of this linkup? I AMMMM! So, if you're here from that, welcome :)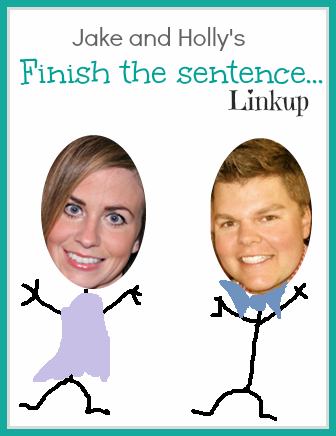 1. If calories didn't count, I would eat... a buffalo chicken ranch sandwich from Chilis after eating their chips and salsa. Dessert would be cheesecake from the Cheesecake Factory.
2. On my Prom night.... I spent the night flirting with a guy that had a girlfriend. We're married now so its fine.
3. When I go to the store, I always buy... Pretzel M&M's.
4. Family functions typically... involve a few of my best buds: Captain Morgan and Oliver (its wine, not a real human)
5. I think my blog readers... are awesome. All 5 of them :)
6. I'd much rather be..... knee deep in the water somewhere with the blue sky breeze blowing wind through my hair.
7. I have an obsession with.... my DVR and I get very uneasy when there are more than 5 backed up episodes.
8. My work friends.... consist of my brother and the boss I had when I worked at the ice cream shop here in town, who was one of my dad's best friends. My life is completely normal.
9. When I created my Facebook account.... I lied about my age.
10. My least favorite word is... rural because I can't say it.
11. I really don't remember.... There is nothing I don't remember. Ask my husband :)
12. Justin Bieber.... and everyones obsession with him needs to go ahead and stop now.