Today I am linking up with two of my favorite ladies,
Holly
and
Melanie
, to talk about Danny and I's big day. Or as my BFF Shelby likes to call it.. Our Big Redneck Weddin'. She's kind of an ass and I hope she reads this one day.
Wedding season is in full swing all over the country. Danny and I are still considered to be "young" since we are going on 24, so not a lot of our friends are getting married so wedding season consists of 2 weddings for us this year. I ain't mad about it. Since I'll likely feel like a fatty for most of it and won't be able to drown my sorrows at the open bars. Anywho, this post isn't about those weddings, its about OUR wedding!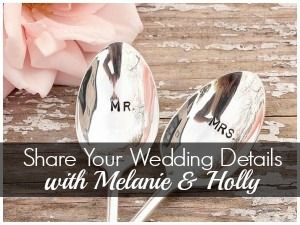 I'm going to try to spare some details so I'll actually have something to talk about when our anniversary rolls around in August.
A little background... We got engaged in November of 2010. I still had a year left of school and Danny still had a year and a half. We decided to set a date for June of 2012 so that we would both be done with school. June 16, 2012 it was... until March of 2012. Danny came to me at the end of February and told me that with the way his medic school program was going to work, his National Registry test, aka the test that his JOB depended on, could easily be scheduled for the week of, DAY of, or week after. He didn't know when for sure and there wasn't really any way to know for sure until school got closer to being done. Cute, right? We didn't want to take a chance of him taking a huge test like that days after getting married and not be able to enjoy the biggest day of our lives (at that point) or take it before and God forbid he fail and be in a pissy mood, not able to enjoy the biggest day of our lives. I told him I refused to wait any longer so the only option was to move the wedding up to the coming summer.
June was too soon, July was out of the question with the 4H fair... August it was. But it had to be the first weekend in August since school was going to start again and his sister was going on vacation the second week. His mom thought we were f'ing nuts but went with it. We were paying for it ourselves so it didn't really matter.
I had already bought my dress in January of 2011 because I got excited, we knew where we wanted to have the ceremony, reception, colors, blah blah blah. The big stuff was "planned" but had to really come together in
5 months
.
Onto the link up...
Location - It was a given that we'd get married in our hometown since we were both from there and our families still lived there, mostly. We had the ceremony in his dad's backyard. I picked that spot about a year and a half after we started dating. We were over there for a holiday or something and I was sitting in the sunroom and it just looked perfect. The reception was at my dad's house where we had been living since he passed away. We invited way too many people to have it at a venue and it being our my property, we had the freedom to do what we wanted. It just required what resembled a circus tent, 7 large fans, some generators, a rented dance floor and 2 carts full of booze from Sam's Club.. and just in case you think I'm kidding...
Colors? an aqua/teal color and orange.
Bridal Party? Freakin awesome. I had 3 friends from high school and 2 sorority sisters. Danny had 2 guys from the fire department, 2 friends from high school and my brother. We had 2 junior groomsmen (nephews), 3 flower girls (nieces) and 1 ring bearer (my godson). To this day, my brother says he was the "Star of the Wedding" since he had to walk our mom to her seat, walk me down the aisle AND stand with Danny. We had awesome shirts made with different "rules" from the movie Wedding Crashers on them. If you don't know what I mean by rules, watch the movie before you come back here.
Honeymoon? We went to Nashville for 2 days and then rented a cabin in Gatlinburg for 3. This happened in Nashville...
We met Blake Shelton and Chris Young bought us a shot of Crown in celebration of us getting married. Pretty cool, huh?
What would you do differently? get married on a beach with our family and closest friends then have a reception a couple weeks later. It's not that we didn't love every second of our big day, it just would have been A LOT easier.

That's it! It was a beautiful day that we'll never forget!