With Mother Nature finally getting her act together and showing her bright and sunny self, there is so much to look forward too around here. I talked about how my dear sweet hubby has
turned me into a woman who enjoys being outdoors
and that I'm enjoying getting our house looking spiffy on the outside. The inside still has some work that needs to be done, but thats a "winter sport" as my dad would say. He didn't necessarily say that interior decorating was a winter activity, he was referring to video games when we asked him to play when we were younger. Like I've said before, I preferred to be indoors where it was always 68 degrees. Now that I'm a big girl, I like being outside. I like working on the house, hanging out with friends, watching ball games, whatever. I generally like to enjoy an adult beverage or 4 while I'm outside, but I'm skipping this drinking season. Anywho, onto the link up that
Holly
and
Trista
are hosting about Summer Bucket Lists.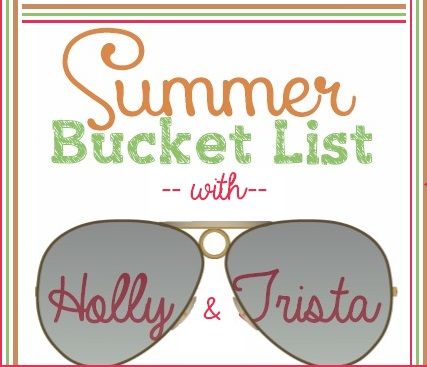 1. Indianapolis Indians Game - I've mentioned many times that the Hubs is supposed to take me to an Indians game this summer as part of my Valentine's Day present. We went last year and really enjoyed it. And Danny enjoying a baseball game just doesn't happen very often.
Normally, I would enjoy an adult beverage or 2 at a game.
2. We were invited last night to go camping with some friends of ours. They have a camper and love to go. We're going to use it as a test drive to see if we want to purchase one for next year! I can't wait.
Normally, this would have been a 2 day drunk fest.
3. Possible lake weekend - My aunt and her family have a lake house (well, its more like a trailer) down in Kentucky on Lake Barkley. They've invited Danny, me, my brother and his girlfriend down for a weekend to celebrate my cousin graduating from IU. We're toying with the idea of going because its a 6 hour drive for us (2 for them). Even though
I normally would drink like a fish for 2 days straight
and even though I can't this year
, it would still be nice to get away and chill at the Redneck Yacht Club.. and watch everyone else tube and get shwastey face.
4. 4H Fair - Although its Widow Week for me since Danny is out there every day that he isn't working, I enjoy seeing him in his element. He lives for the 4H fair, especially the 4H part. He loves helping his nephews and friends out during the week and can't wait until our kids are old enough to participate. Me? I live for the food. Fried goodness lines the walkways. I generally plan my dinners the week before around the days Danny works for nights I know we will be out there.
5. I need to get a tan and I'd love to go swimming. I'm in a wedding in August and the verdict is still out on whether or not spray tans are okay for pregnant women. If anyone has had any experience with this, holla atcha girl!
6. Vacation - We're planning on going to Michigan this year in late August, or maybe early September. Hell I dont know. Right now that doesn't matter, as long as we go. Its likely our last trip, just the 2 of us, for a good long while. So it WILL happen!
That's all I got. Nothing huge, but enough to keep us busy thats for sure.