This link up is too good to pass up. My husband talks almost daily about how he would spend his millions. This conversation usually evolves from him talking about one major thing he wants to buy (mini cows, boats, guns, trucks) then he lists the entire shopping list. Now it is my turn! :)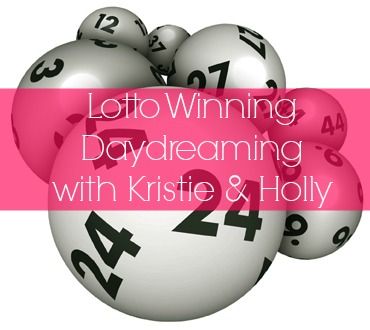 1. All the normal shit would happen first... pay off debt, donate some to the church which would also be our children's school K-8th grade, some to the high school, we'd donate enough to 4H to have the show arena named after my husband as well as my business, and the kids' colleges would be paid for. Just because their mommy is rich as hell doesn't mean they get to free load forever. I won, not them.
2. I'd buy a new Chevy Tahoe with all the bells and whistles. Like it would practically drive itself, if not fly. I'd also need some cute little sports car, convertible of course, to piddle around town in. Danny would get a new diesel truck. My mom would get a new car too.
3. The room addition of our master bed bath and closet would happen, stat. I wouldn't want a new house. I like our little hidden gem. I'd just make this one completely badass. I'd have a walk in closet that Bethenny Frankel would envy. Thats the main key to a good bedroom.
4. I'd buy boats. Yes, 2. A pontoon for when we were feeling like partying and a speed boat for when I was feeling sporty. We would need a couple lake houses as well. One in Michigan and one in Tennesee.
5. Speaking of houses, I'd need one in Orange Beach, Alabama. A condo would be fine too. I'd also rent it out when we were using it just so I can turn my lotto winnings into more money.
6. I'd quit working. Its not that I don't love my job, I just would love not working more.
7. There would be a lazy river in my back yard that surrounded the self-cleaning pool. Who doesn't want a lazy river? Those things are about the only reason I ever want to go to a water park.
8. Everyone in my immediate family would have a 4-wheeler and we'd have 2 to spare for friends. We would ride these bitches on the 200+ acres I bought that has a wooded area, a pond for fishing and a cute little log cabin.
9. I'd put some money aside specifcally for some "work" aka plastic sugery. Get a couple things tucked and lifted after I'm done having babies.
10. Diesel would have his own room. We would turn the shed into his Doggy Dreamhouse that had an unlimited amount of bullysticks.
11. I'd go on 3 7-10 day vacations a year. I'd go to the Horsehoe in Southern Indiana so much that they name a floor after me in the casino. And they rename Paula Deen's buffet after me. I'm sure thats up for grabs.
Alright, thats all I got for now. Its time for me to get my ass on the road and go meet with customers. Here's to hoping I don't get lost again today like I did yesterday when Google Maps AND my iPhone both failed me.