One of my favorite link-ups is Monday Memoirs hosted by
Royal @ Royal Proclaims.
It couldn't have come at a better time either. There is a new song by Justin Moore that's got me feeling all sentimental and what not. Probably with some help of new mom hormones too, but whatev.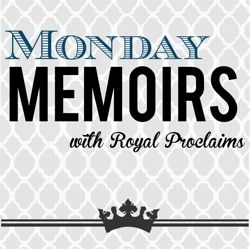 I LOVE Justin Moore's music and this new song, Let The Night Roll, has to be my favorite by him. As soon as I heard the first verse and chorus it immediately took me back to the fall break my senior year of high school.
It was Thursday evening and I had made last minute plans with Danny. The guy I always swore up and down that I would never date. But something made me say yes when he asked if I wanted to hang out with him that night. I met him at his house and we got in his truck. He told me he had to go feed at the farm he was working at and then we had the rest of the night open. I watched him work for the next 20 minutes and wondered what the hell I was doing sitting in a barn with all these sheep with this guy. I didn't belong in a barn and I certainly didn't think I belonged with Danny.
We got back in the truck and took off driving. As the sun went down we drove around listening to the new Rascal Flatts cd, taking turns picking left, right or straight. Two and a half hours and 13 songs later, we had covered the northern half of Madison county and probably even part of Grant. Mr. Biggest Flirt finally made his move and slid his hand over on top of mine.
After the cd ran out of songs a couple times, we decided to stop by a bonfire that my best friend and one of Danny's oldest friends was having. When we showed up together, she and just about everyone else was a little confused. She finally asked what was going on and I told her I didn't have any idea. Danny and I spending time together was just about the last thing anyone expected, but once everyone saw us together, it just made sense. After a couple hours we decided it was time to leave. We were having such a great time that we didn't want the night to end, so Danny took the long way back to my house. We were so distracted by what was happening that we pulled in the driveway and my car wasn't there. It was at his house. We headed back to his house and at the stop sign down the road from my house in the middle of us laughing, he kissed me. And it was right then that I knew I was in trouble when it came to Danny and this wasn't going to be a one time thing.
At a different bonfire a few months before. I thought he was such a tool :)
Six years later, we're still driving around holding hands and taking turns picking left, right or straight.